Travel.
What is a girl to do when good friends say, "come away with us....." I think we know the answer,
Yes!!!
So..... Where, when and how?
How do you decide which places on this gorgeous planet of ours do we explore....


Not too many countries.... Not too few ....
How much travel in one trip, is just enough?
Then ... 'Let's ask the kids to join us for part of the adventure' ....duties, deadlines, diaries and dear ones - all need to be taken into consideration.
Result......
Ireland
(19 July - August 1st. 12 days using a hire car)
We arrived in Dublin, picked up our hire car and travelled straight to Newgrange.
The Neolithic passage tomb
is the most visited archaeological site in Ireland. Over 5000 years old it pre-dates the first phase of Stonehenge by 1000 years and the Egyptian pyramids by 400 years. It is a truly massive structure measuring 76 m in diameter by 12 m in height.
Newgrange archelogical site
Explored Killarney National Park which has some lovely scenery and walks..
Stopped in for lunch and some music. Glass blowing and antique shops . . .
Cameron and Arron loved all the old crumbling castles they could climb over and in . . .
I liked, being able to see out through the glass roof of our hire car, as we drove through the countryside. Slight drizzle today but manageable.
Views from Gap of Dunloe are spectacular. We all found Muckross House and gardens interesting, and enjoyed the guided tour. Torc waterfall is lovely. Glen view gardens are worth a visit. . . then around the

Ring of Kerry . . very picturesque.
Through Bantry, round to Kinsale and stayed at the Old Imperial hotel for two nights. Great meals. Day trips around the Cliffs of Moher and through
into quaint villages. Leisurely meals at pubs and walks around Bunratty and Kiladvnet castles and Balleycassey craft and design centre.
Visited Kilkenny for a day visiting the National craft gallery, lunch at Brewery corner and then the Medieval Mile Museum, Kilkenny castle and stayed overnight in New Park hotel.
Back into Dublin . . Stayed a couple of nights right near the church/St patricks Cathedral . . .great location. Did all the touristy things . . .Hop on Hop off bus, stopping at Castle, Trinity college, Little Museum of Dublin (which we all loved, due to the eccentric professor who guided our tour - superb!!!!)
Temple Bar, Farmers market, and a wee wander through the streets . ..
Flew from Dublin to Glasgow.
Scotland in August is gorgeous.
(1 - 16th August )
We had sunshine, very little rain, and just enough coolness to make walking pleasant.
Who knew ~ I did not? Scotland is gorgeous.
A fascinating night in loch Awe and a look around loch Lomond and now we are staying at Alvie Estate...Met up with our fiends. Scrumptious night in pub and piped out by beautiful men in skirts.... I may not come home. Last drink before bed...
Alvie Estate - gathering of the Clan !!
..
Woke this morning to birds whistling, cows mooing and scenery out the bedroom window
to blow your mind.... I am loving this place. The weather is similar to August days in Brisbane - cool, crisp and bright.
upstairs down stairs or Downton Abbey . . .
only older !!!
Found the most amazing little antique shop set up in an old church. An entire room of old furs, mostly from Russia. The internal silk linings were decorated with the most intricate embroidery. ..
. Coats, muffs and hats. Tried to imagine wearing a set to the Movies in Brisbane. . . .mmmm!
Then we found a
n entire room of old embroidered linen - which I could not resist, and silver. Yes! I bought some serving spoons and odd bits to add to all the other 'bits' I don't use ... Yes! I can just see Margaret Ollie's rooms, and hear you all groan. More StuFF!!!
The boys said I spent 2 hours ferreting around, but I am sure it was only 30 minutes.
We spent a day at Cairngorm mountain where the views are spectacular.
That evening we rounded off with a lovely meal at Rowan Tree restaurant - to celebrate my good friends daughters engagement ... Which was just asked, and accepted, that day ... on bent knee on a bridge .... Oh! So romantic ... Brings back a flood of memories. Wishing them every happiness!!!
Today visited a Whisky distillery and had a tour of the Loch Ness . . . and enjoyed another gorgeous meal.
Today off to Blair house, Briar Shop and to see some more antiques.
Fair is fair . . .Boys Castles . . .Girl - Bling!

Tonight is our l
ast night, here in Alvie Estate with our friends. We will all gather at Ann and Peters cottage to hear a Bag Piper play, and tell stories concerning Scottish History, while eating freshly caught trout, smoked by the boys themselves . . . and be grateful for such a stupendous week, and sad that it is over.
We travelled across to visit
Inverness, Loch ness, and Poolewe . . . enjoying some heavenly seafood, and landscapes.
Battle of Culloden. The boys were delighted to see a full re-enactment.
Cannons at full blaze!
Drove through mountains of Corrieaballoch,

We all delighted in our visit to Inverewe gardens. Lovely accommodation, gardens and ocean views. This was a highlight for us all.
Then we drove through to the . .
Isle of sky. This drive is picturesque and extremely enjoyable.
We discovered another series of incredible antique stores. One had all of their pottery outside in an open area, open to the elements .. . stuff we would have behind lock and key.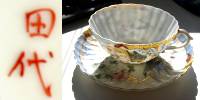 I bought a set of these fine cups, certain that they may not survive the trip . . . but I had to buy them as they have a transparent image of a geisha in the base of each cup and saucer . . . lovely . . .they survived!!
Could not resist two small cloisonné ware vases with dragons on them . . . and a small egg, beautifully made.
We saw Mason, Paragon, ridgway, Rockingham, Rosenthal, Royal crown Derby, Spode, Villeroy and Boch, and Satsuma ware . . .just to mention a few. Also some incredible pieces of jewellery . . . . I bought enough items to fill 5 boxes, which we posted while staying in Hellensvale . . . Beautiful pieces!!!!!! I would have loved to have bought some more larger platters, vases and bowls . . .but his nibs said NO! . . .
managed to buy one . . . or two!!!!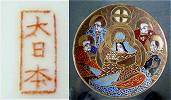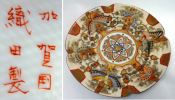 and then through Fort Goerge,and into Hellensvale . .. another gorgeous series of incredible landscapes and quaint villages . . .and Yes! more Castles for the boys to explore and gardens for us to wander through . . .. Beautiful.
We do love Scotland.
Stayed at a variety of beautiful B and B's and very old, 'Grand Houses'
Everywhere we went, that had orchards, the boys were pinching the fruit, and devouring it. . . I was expecting them to complain of insecticide poisoning . . . or for some gardener to complain that they were stealing . . .But, No! the gardeners we encountered were very enthusiastic, and pleased that their fruit was being enjoyed.
Here Arron is waiting to see what Cameron decides . .
Is it good? .mmmm! . . . it was!
Gardens were a highlight throughout our travels - through both Ireland and Scotland .
Another door - more delights!
Then we drove into Edinburgh . . .
for the The Edinburgh Tattoo . . We were surprise just how much we enjoyed the evening . . . was impressive!
Walking home afterward at 11pm, slurping on gelato, while catching the people enjoying the fringe festival events ...trying to avoid being dragged into al
leys so very like Harry Potter, you find yourself keeping your eye open for Professor Moody ... And often thinking you have found him, until you focus and see it is but a wee lad who has enjoyed his Whisky a little too much. . . and there were a lot of them.
More Cathedrals and Castles and the Hop on Hop off bus. . . . Edinburgh Castle, Hollywood Palace, Merchant House, and the Gorgeous Pastries from Patisserie Valerie . . .
and then it was time to catch the afternoon train on to London.